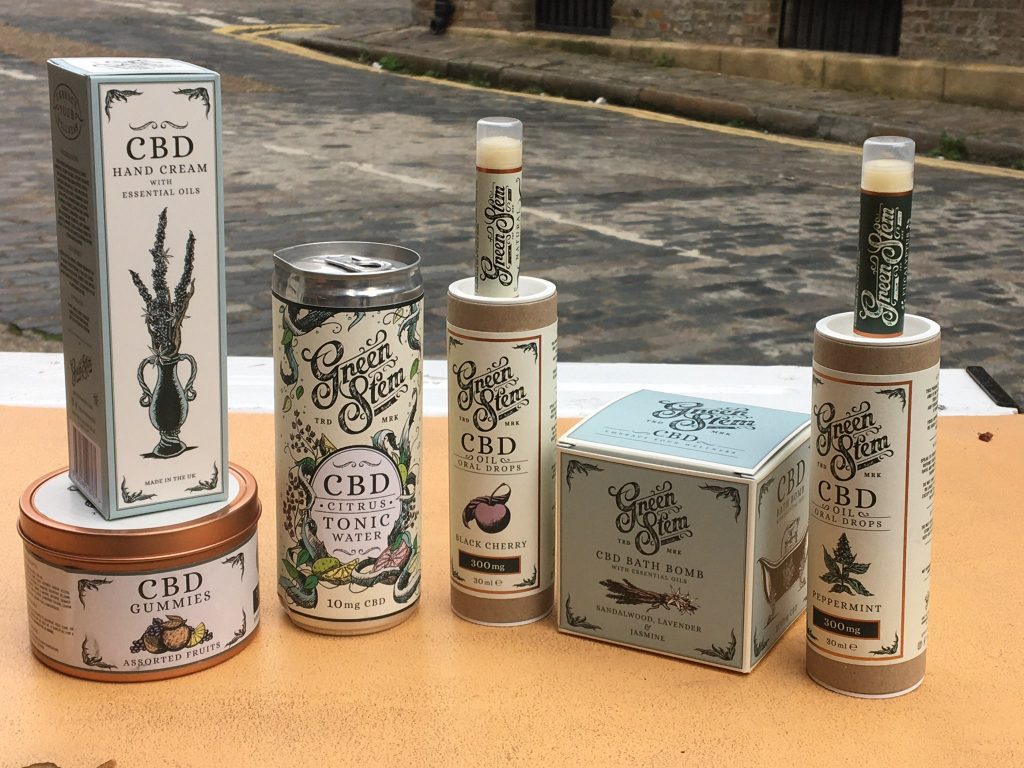 I would like to thank the team at Green Stem CBD for sending me across their full product line for the purpose of this review.
About Green Stem CBD – Website
Before I go into reviewing the Green Stem CBD products, I would like to pause for a moment and review the company's website. I must admit that I am very impressed with the speed and the artisan design of the company's website. The website strikes me as being very consertive English and brings to mind Victorian novels and writers such as Oscar Wilde and Emily and Charlotte Bronte Sisters. Unlike other CBD sites that go very heavy on the CBD/Hemp element that tends to scare some website users away due to misinformation about CBD products and their association with cannabis, Green Stem CBD takes a very subtle approach towards CBD products by emphasising the botanical elements in their branding.
About Green Stem CBD – Company Overview
On their website, Green Stem CBD claims to provide a product for improving the quality of life and wellbeing. The entire Green Stem CBD product range features CBD Oil Oral Drops to Vaping Liquids, CBD Bath Bombs, CBD Gummies, CBD Tonic Water, CBD Hand Cream and CBD Lip Balms. The company states that all of their products contain CBD from either 99% pure CBD isolate or broad spectrum Hemp Oil distillate. In tune with their branding and botnaical motifs, Green Stem CBD products are made in the UK in accordance with stringent guidelines to guarantee the highest quality and purity in its products as one would expect from this company's branding.
Green Stem CBD Full Product Line Review
In this review, I am going to be reviewing Green Stem CBD Skincare Products including CBD Hand Cream with Essential Oils, Sandalwood, Lavender and Jasmine, Green Stem CBD Lip Balm Natural, Green Stem CBD Lip Balm Eucalyptus and Green Stem CBD Bath Bomb, Green Stem CBD Edibles and Drinks including Green Stem CBD Gummies and Green Stem CBD Tonic Water, Green Stem CBD Oil including Green Stem Black Cherry CBD Oil Oral Drops and Green Stem Peppermint CBD Oil Oral Drops.
Green Stem CBD Packaging and Presentation
Green Stem CBD products elicit quality that is subtle and quintessentially English: green and leafy countryside came to my mind when I received the products. The company's branding is very similar to the likes of L'Occitane, Joe Malone and other popular and upmarket beauty brands. The only problem with the packaging was that the labels had come off a fair but on the CBD oil tube boxes, possibly because the sticker does not bind too well with the cardboard tube packaging. Such problems are common and I certainly came across them in the eliquid market.
Green Stem CBD Skincare Products
CBD Hand Cream with Essential Oils, Sandalwood, Lavender and Jasmine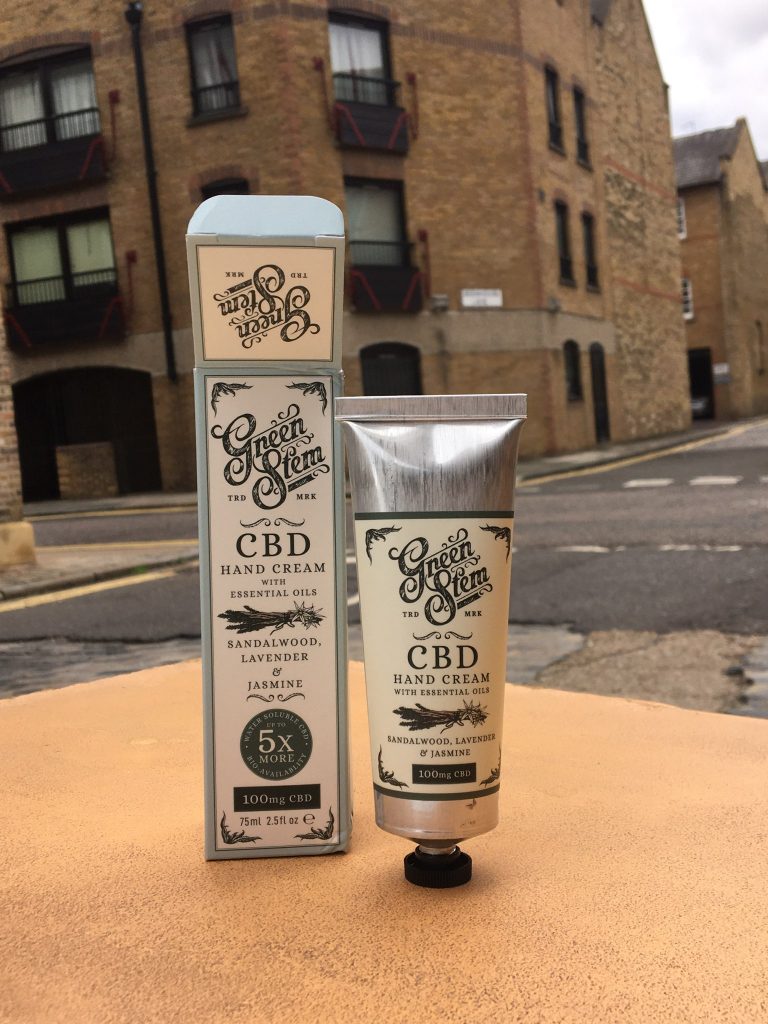 CBD Hand Cream with Essential Oils, Sandalwood, Lavender and Jasmine comes in a very elegant and artisan meta tube packaging which is very easy to use and quite convenient to carry about in a handbag or a sports bag. The cream has a very sophisticated and luxurious smell of sandalwood, lavender and jasmine that is very subtle and not at all overpowering. I actually found this handcream a great alternative to perfume. It is perfect for all occasions and genders. Having used this CBD hand cream about five times, I noticed that my skin became much softer and moisturised. This CBD hand cream does really help with dry skin and even treats small scratches and skin disorders (disclaimer: this is only my experience and I am not making any statements on behalf of Green Stem CBD).
Green Stem CBD Bath Bomb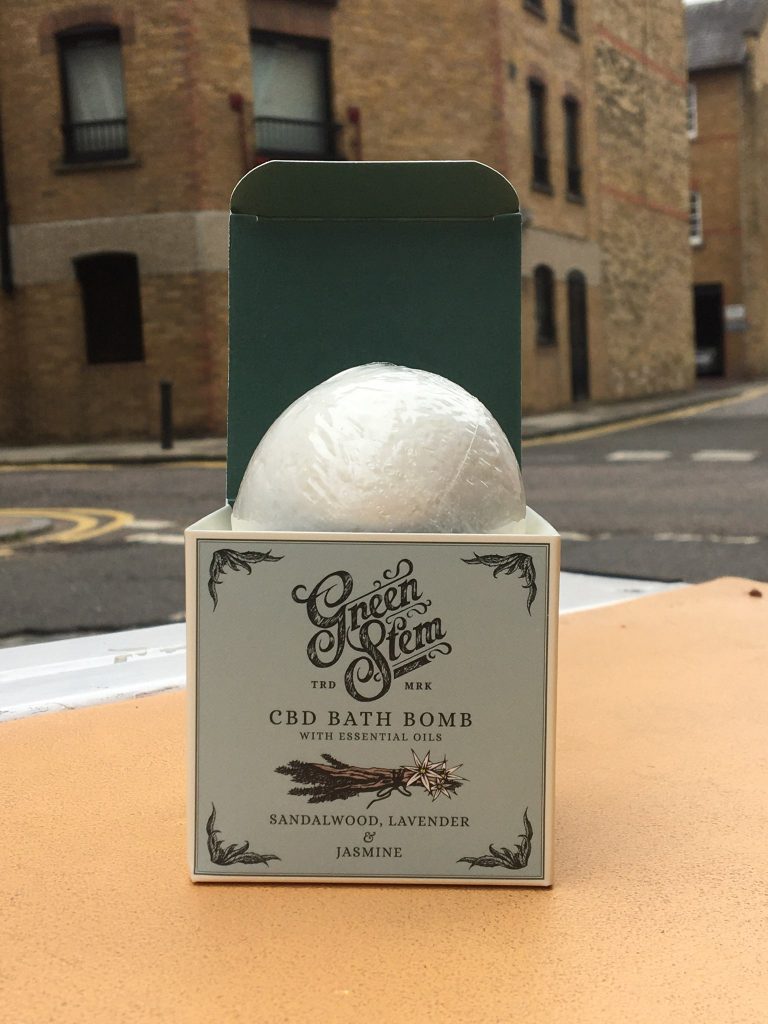 Green Stem CBD Bath Bomb comes in a nice square box. This bath bomb contains Sandalwood, Lavender and Jasmine and it is great addition to the ultimate bath relaxation experience. The bath bomb lasted quite a while and dissolved very gradually. The smell of this bath bomb is incredible. As I laid in my bath, I watched it transform into a royal botanical garden where all my stress and anxiety melted into the blue sky. I felt very relaxed and soothed after using this CBD bath bomb, my skin felt rejuvenated, smooth and healthier. The CBD element of this bath bomb, coupled with the earthy and flowery scents made for a very calm and relaxed bath experience.
Green Stem CBD Lip Balm Natural and Eucalyptus
Green Stem CBD Lip Balm comes in small, portable tube containers. The natural CBD lip balm is quite neutral in smell and is ideal for everyday use. The Eucalyptus CBD Lip Balm has a refreshing and invigorating smell and feel. When it had gotten a bit windy in my local area (Wapping), the Eucalyptus lip balm created a chilly sensation on my lips, which I quite enjoyed. However, neutral lip balm would probably be more appropriate during the chilly and windy period. Both lip balms are very long lasting and so not come off that easily even after a hearty lunch, a coffee and some bubble tea which means that the lips are always moisturised. Normally, my lips are quite dry, but these CBD lip balms definitely made my lips feel moisturised and soft during the best part of the day!
Green Stem CBD Edibles and Drinks
Green Stem CBD Gummies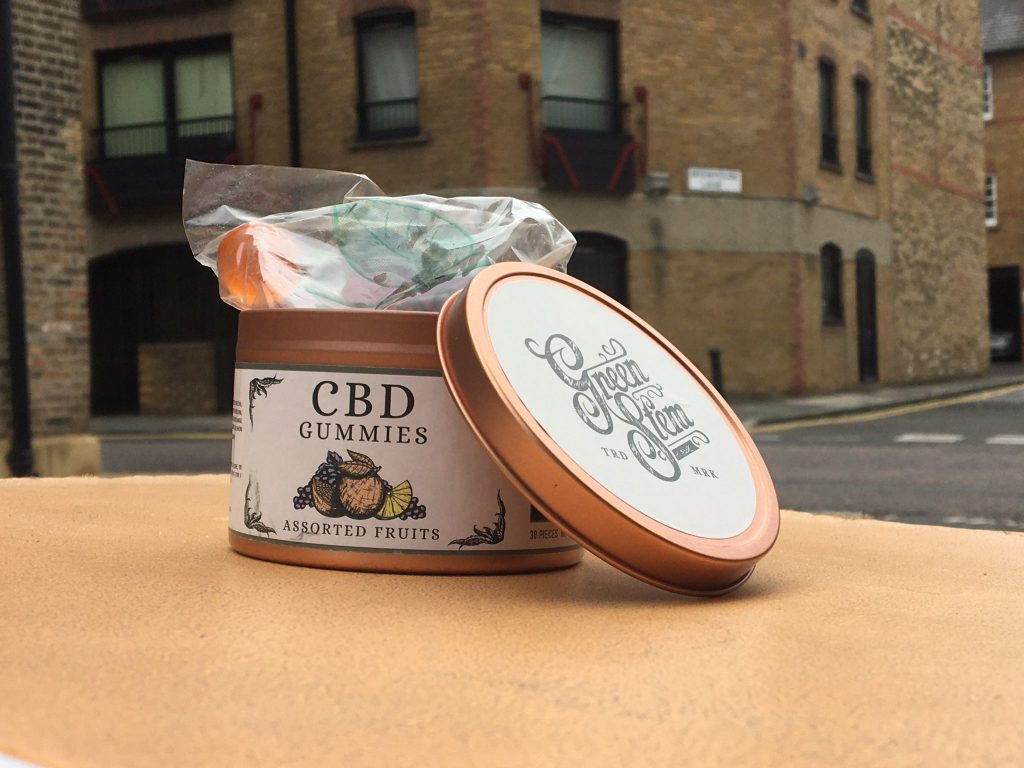 Green Stem CBD Gummies come in a very luxurious and durable bronze coloured meta container. I thought that the packaging of these CBD Gummies was the best out of the lot. It definitely creates a more sumptuous and opulent finish. The gummies are not actually gummy shaped, but are rather jelly pieces. Before I tried the CBD gummies, I expected a very sweet taste. I was very pleasantly surprised when I tried the CBD gummies because they tasted more like mildly sweetened tonic water with slightly leafy and earthy scents. I can actually see why these gummies would appeal to a more mature audience with a more conservative taste palette. After eating four or five gummies, I felt very relaxed and calm after about twenty minutes. My stress levels had dropped drastically and I ended up putting on some deephouse night vibe tracks and drifted off into a cosy midday snooze. Another thing that I have noticed is that these gummies do not have that acidic sensation on your teeth after you had eaten some sugar gummies. If you are not a fan of sugar and do not have a sweet tooth, these gummies are definitely for you. What I particularly enjoyed about these CBD gummies is that they are not sweet so as to become very more-ish. I tried sweeter CBD gummies and ended up finishing the entire pack in a day because the sugar made me forget about the CBD aspect.
Green Stem CBD Tonic Water
I ended up taking this Green Stem CBD Tonic Water on a distant car trip. Before I popped the can open on M11, I expected some sweet and sparkly that will send me into an instant sugar overload! I was yet again pleasantly surprised, this tonic water is quite bitter but not bitter in the sense that I do not want to drink this. The slight bitter sensation was cancelled out by the taste of citrus notes and I could feel some earthy sensations too. The actual water is quite well-rounded and not at all dry as you would expect from tonic water. It is a great thirst quencher because after a few sips, I felt very refreshed and reinvigorated. I also felt quite chilled out on the motorway when normally, I would be more tense and stressed out. The price of this CBD tonic water is definitely very competitive considering that you are getting some health benefits out of it.
Green Stem CBD Oil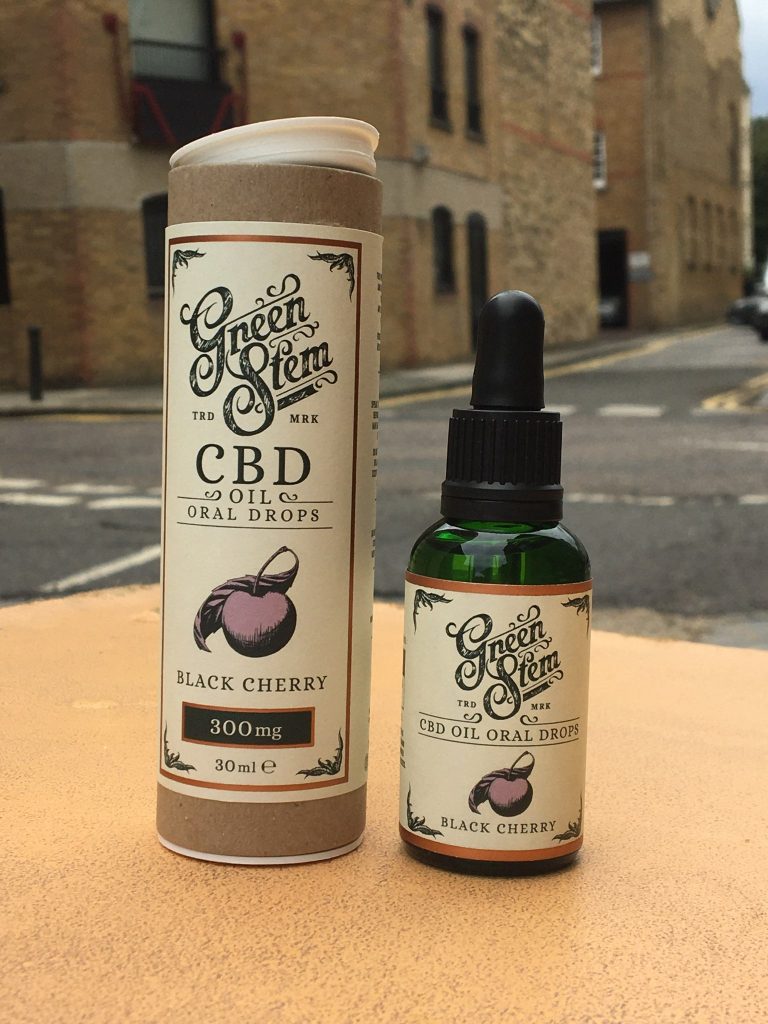 I have tried all types of CBD oils from many CBD brands but these CBD oils were absolutely NOTHING like I have tried before. I have noticed that a lot of CBD oils on the market either contain a hemp or cannabis taste or aftertaste which I do not mind but I do know that it has putten some people off. For example, when carrying such CBD oils with you, can leave a hemp or cannabis smell on you which can be reputationally damaging and cause people to mistakenly think that what you are consuming may not be entirely legal. Green Stem Black Cherry CBD Oil Oral Drops and Green Stem Peppermint CBD Oil Oral Drops definitely transgress all the expectations, the Black Cherry CBD Oil smells like a Morello cherry that you would have on top of your cake or a cupcake, it is very fragrant but at the same time extremely subtle. When trying the black cherry cbd oil, all I could taste is just very faint black cherry. The cbd oil has a very neutral taste with a subtle black cherry finish that leaves a pleasant sensation in the mouth. The eucalyptus CBD oil is likewise very subtle and has a very gentle minty sensation that is subtle and does not send you into an arctic overload in your mouth. The CBD oil takes a good ten minutes to kick in. I immediately felt very chilled out and my brain and the entire body became relaxed in the background without frustrating my mental faculties. This CBD oil works great for any time of the day and not just before sleep.
Final Words on Green Stem CBD
Overall, Green Stem CBD hosts a great stable of very luxury and artisan CBD products that are nothing like you have tried before. The Green Stem CBD products are great for a more discriminatory clientele who are looking for subtle and sophisticated products. The packaging of Green Stem CBD products corresponds to the quality. My overall impression of this brand is that it is geared towards more conservative people who value quality. The prices of Green Stem CBD products are very affordable and not prohibitively expensive as I had expected them to be. I would recommend Green Stem CBD products to those who are looking to benefit from CBD but without a "shouting" presence of hemp or cannabis smells.