In this review, I'll be reviewing JustCBDCannabidiol Gummies Jar with a whopping 1000 mg of CBD per jar and with 40 – 130 pieces per jar, depending on the flavor you get.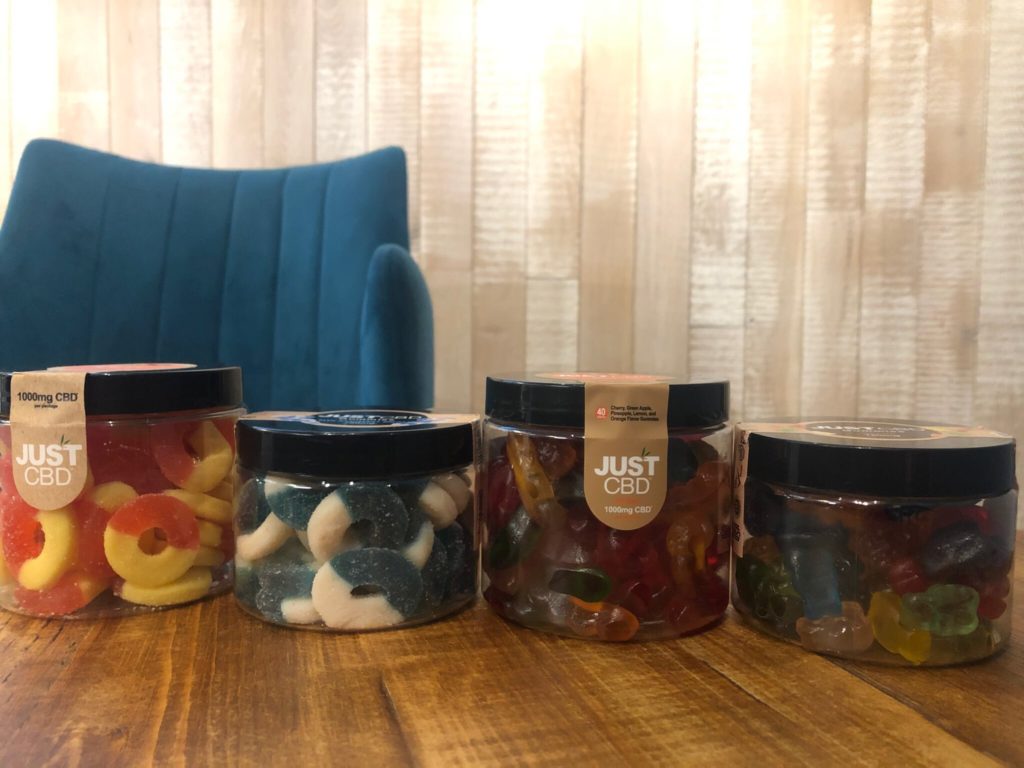 Considering the ongoing trends, CBD has become the go-to for people who have to face stressful scenarios every day. The primary reason behind CBD being the go-to is its magical effects and how relaxed it makes you feel within a few minutes.
I've known JustCBD for quite a few years now, well, since the very early days of their launch. They're known to provide you with a wide range of quality products that are both attractive looking and effective. When the CEO of JustCBD reached out and asked for my opinion on their CBD gummies, I didn't actually have the time to review them. However, on second thought, I actually went for it and asked them to send these over. I had a business trip planned in the upcoming days for a conference, which made me want to try these out since my trip involved travel and hectic work hours.
After these were delivered to my home address, I was honestly blown away by the end products and the quality of the packaging. I have to be honest, I've tried other CBD brands as well, but when I received the JustCBD gummies, the packaging and the overall quality of the product were up to the mark. Anyway, I left for my business trip and decided to take this jar with me since it came in a nice little jar that perfectly fit my bag. If you've never tried JustCBD products, allow me to provide you with an overview of the brand.
An Overview of The Brand, JustCBD
JustCBD started production of its CBD products back in 2017. It is a Florida based company that produces and distributes quality CBD products within the United States. Whether it is gummies, vape pens, or CBD oils or full-spectrum CBD oil, JustCBD ensures you get the maximum potency. All of its products are produced solely by using premium-grade hemp. Moreover, if you're on the lookout for CBD products without THC and chemicals, JustCBD is the way to go.
Its vegan gummies are the most favored among its CBD products. As you can tell from the name, they're "vegan," containing no synthetics, animal ingredients, or animal-derived ingredients. They're primarily produced with all-natural ingredients, and of course, the purest form of CBD.
Besides, JustCBD products, specifically gummies, have a long-lasting taste, unlike other CBD brands that have a relatively poor taste and last only a few minutes. If you're a first-time user of CBD products, you'll have an absolutely wonderful experience with JustCBD. Considering how thoroughly they research their products and conduct a series of tests before sending out their products.
Moreover, JustCBD products are legal in all of the 50 states of the United States. Irrespective of where you're based, you can legally purchase JustCBD products and enjoy the effects of CBD in its purest form. Which is they are openly talked about in various publications including Daily Beast, Delaware Business Times, and Hour Detroit.
My review of the JustCBD Gummies (1000 mg CBD) will further reveal why you MUST try these products. Without any further ado, let's dive into the actual product review.
An Honest Review of TheJustCBD Gummies – 1000 mg
Opening the box sent over by JustCBD revealed I didn't receive only one flavor of the gummies. In fact, there were over 5 different flavors, which kinda stressed me out, to be honest. The colorful gummies took me a good 5 minutes to decide what flavor I should try first. Each had a distinct, unique shape, which made it difficult for me to choose one out of the set of 5. If you're wondering what flavor I tried first, you gotta wait for the answer. Before I reveal it, here are the primary ingredients used in the production of CBD Gummies.
JustCBD Gummies – Ingredients
Keep in mind, all of these ingredients are sourced naturally and do not have any synthetics. Although there are several flavors available in the JustCBD Gummies, the primary ingredients are essentially the same. The difference only arises when it comes to the coloring of the gummies and the flavor itself.
I've listed all of the ingredients down for your ease so that you could have a better idea of how these gummies are made in the first place.
Corn syrup
Water
Sugar
Gelatin
Citric acid
Pectin
Vegetable oil ( Canola& Coconut )
Carnauba Leaf Wax
Natural and artificial flavors depending on the flavor that you choose from the list of flavors available
Now that you have an idea of what these gummies are made of, I'll reveal the 5 different flavors that I received. I won't tell what flavor I tried first; you still have to wait for it, or better, you can guess it.
Clear Bear – multi-colored Bears
Happy Face or Emoji Face
Peach Ring
Watermelon Rings
Blueberry Raspberry Rings
Review of The JustCBD Gummies:
If you've read the product list, you might have an idea of my first pick. However, if you couldn't tell from the product list, I'll finally reveal my first pick. I went ahead with the Happy Face, which is essentially the sole reason for using any CBD product.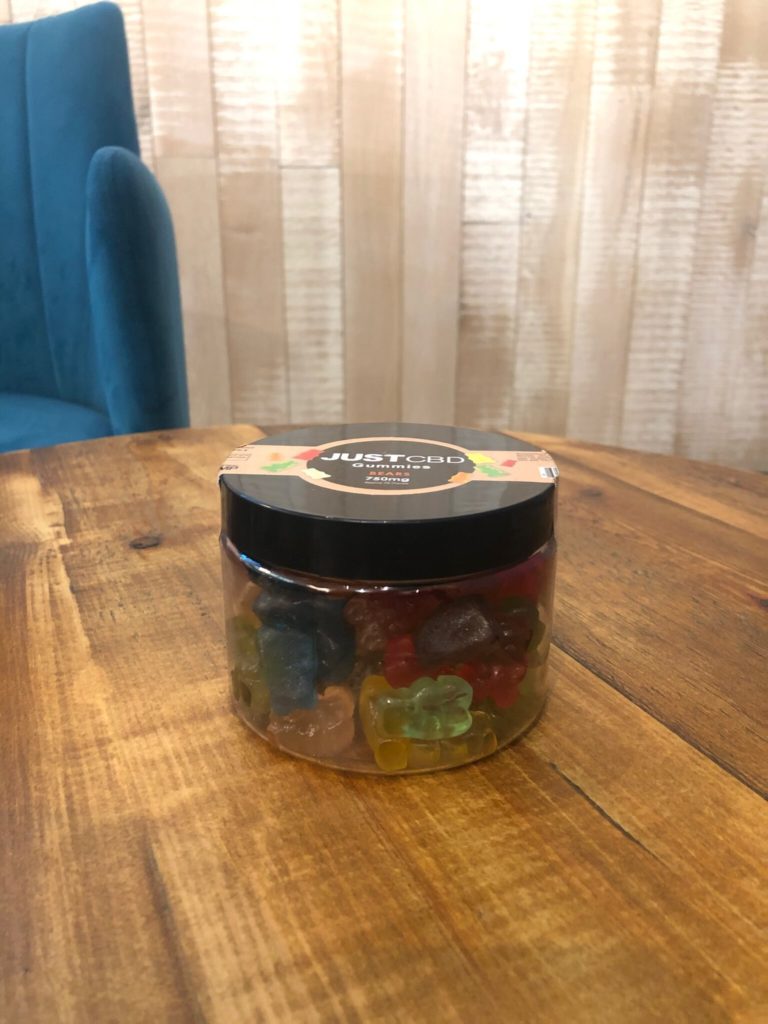 CBD Happy Face Gummies:
CBD Happy Face gummies have a distinct emoji on it which made me really excited as to how it would make me feel. I consumed this the night before my business trip, and after taking only two happy face gummies, I could already feel my moods improving. It tasted sour at first and turned into a perfect sweet and tangy flavor afterwards. With 7mg of pure CBD per gummy, a single gummy would suffice for a newbie.
Clear Bear – Multi-colored Bears:
CBD Clear Bear multi-colored bears are cute little teddies that contain 10mg of CBD per gummy. These are red, yellow, and green in color. Similar to the happy face gummies, the clear bear gummies had a sweet and sour flavor as well. With a slightly higher dose of CBD, I only took one in the morning after, and it significantly lowered my anxiety before the long business trip –thus allowing me to feel more relaxed.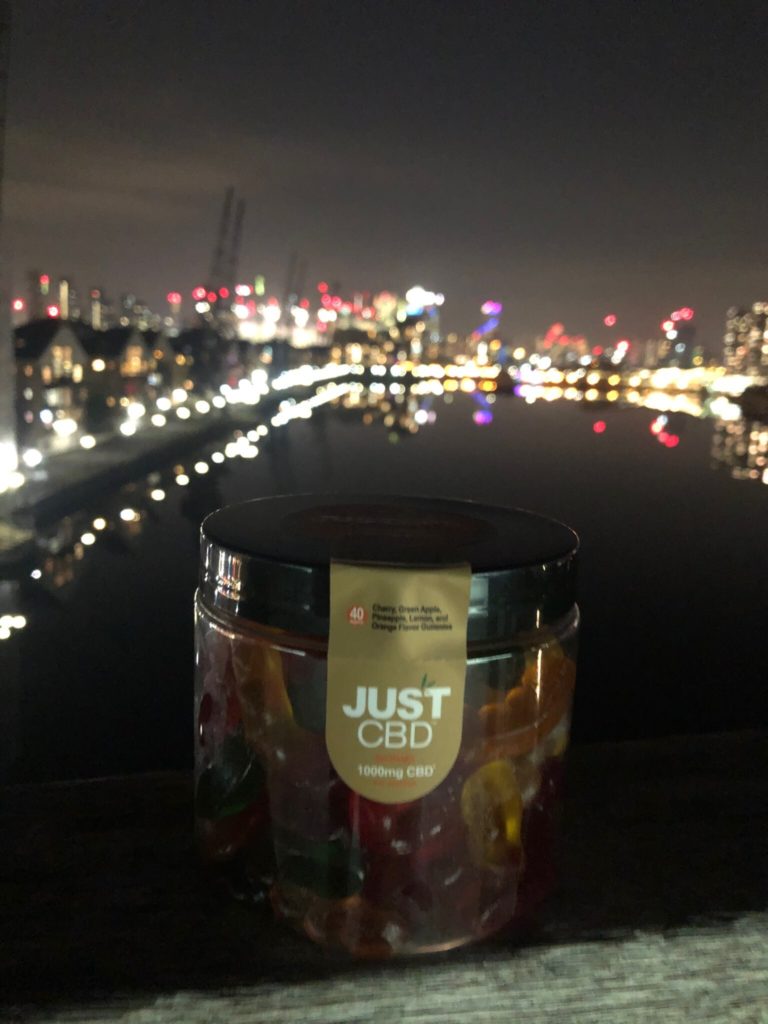 CBD Peach Ring:
What I like about JustCBD gummies is that their names could give you an idea of how they actually taste like. As you can tell from its name, these were in the color of peach and in the form of rings. After consuming one peach ring gummy, I noticed fruity hints, and honestly, I would have finished them all in one sitting if they didn't have any CBD in it. These can be taken at any part of the day whenever you feel tired or stressed.
CBD Watermelon Rings: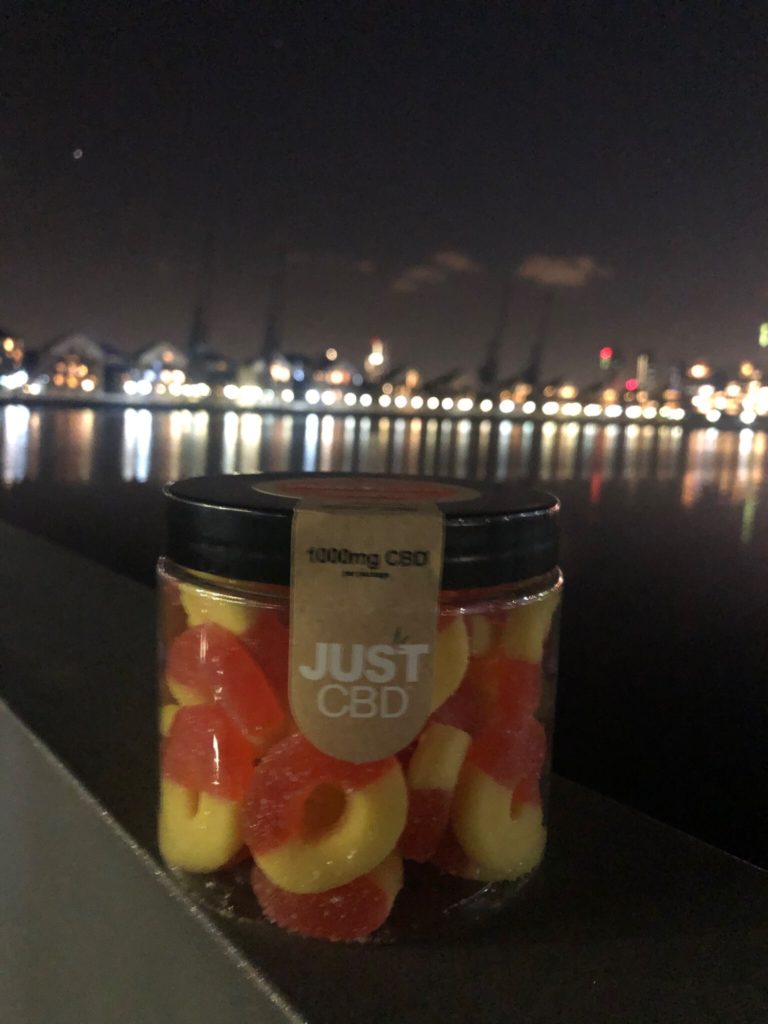 CBD watermelon rings are packed with a rich mouth-watering flavor. The only downside to this is that you only get 48 pieces of watermelon rings. However, each piece has approximately 25mg of pure CBD –thus making them ideal to carry them on the go. I only consumed one and immediately noticed a significant boost in my mood and I felt more relaxed. Trust me when I say "significant" I actually mean it. The higher dose of CBD per piece led me to have a long peaceful night of sleep and I felt really focused and productive in the morning after. Watermelon rings are by far my personal favorite out of the set of flavors that I received.
CBD Blueberry Raspberry Rings:
CBD Blueberry Raspberry rings have a rather unique blend of sweet and tangy flavor. Right from the first ring I tried, I was amazed at the choice of flavors by JustCBD. Similar to the watermelon rings, this too has a higher dose of CBD with approximately 25mgs of CBD per ring and a total of 40 pieces per jar.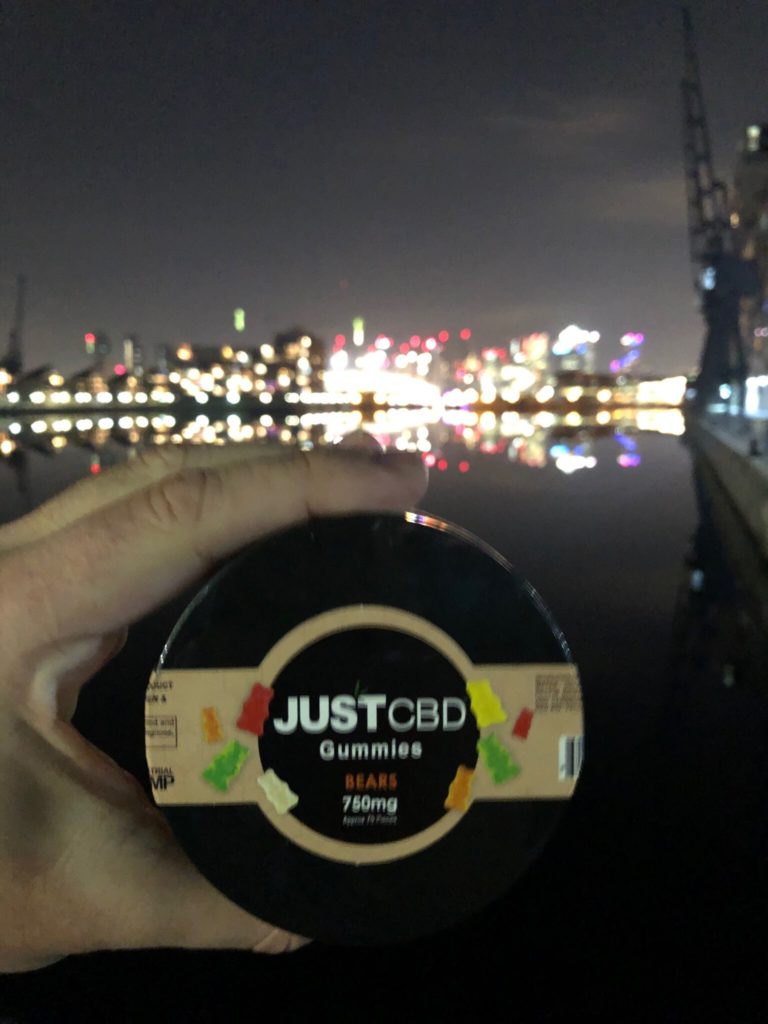 Although I tried it last, I wished I would have tried it first because honestly, I would consume CBD blueberry raspberry rings every night before going to bed. I felt its effects within a few minutes, and it took away all of my stress buildup from the business trip.
Conclusion
JustCBD's wide range of flavors in gummies are the ideal pick for anyone looking forward to experiencing the effects of CBD in its purest form. From my experience with JustCBD products, I could assure you that these are the most premium products available in the market. Not only does the taste last for a longer duration, but the overall quality of the end product is quite remarkable as well.
Besides, if you're looking for vegan products, this is it. All of JustCBD products are vegan and free from any animal-based ingredients and GMO –thus making them an ideal pick for everyone. Moreover, the availability of sizes based on the mg of CBD is also a great option to ensure you find the right dosage for yourself. I absolutely recommend JustCBD gummies!